Are you looking for Bulbs
Service 

for your vehicle?

Although most cars in the UK use traditional halogen bulbs, several modern vehicles are now coming with xenon bulbs and LEDs (light-emitting diodes).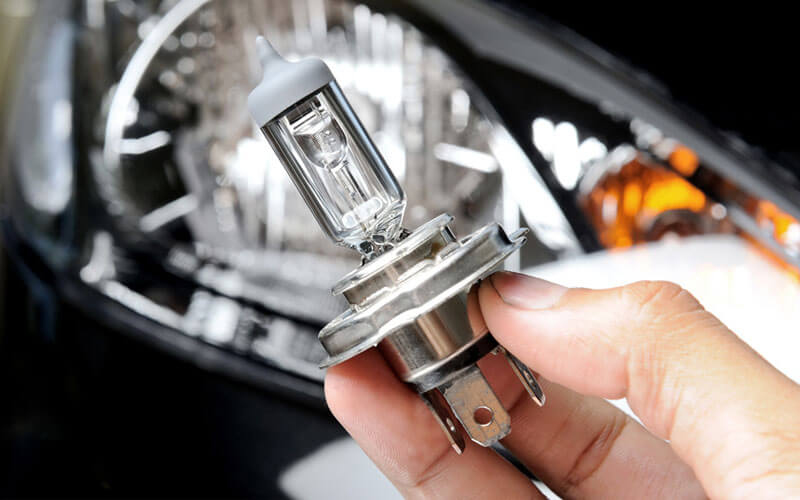 You may want to upgrade your car headlights to a more durable option as per your requirement. Or, you may seek to replace a burnt-out headlight bulb at the earliest. The same also applies to other applications like brake lights, reverse lights, indicators etc.
For that, you can visit us. At Westgate Tyres, we have an exceptional gamut of car bulbs Morecambe ideal for any vehicle. Choosing the perfect bulb for your vehicle goes a long way and helps you pass MOT checks as well.
Types of car bulbs that we sell
Vehicle bulbs usually have a lifespan of about 5 years. However, several usage-related factors can squeeze the life out of the bulbs sooner, and you might have to replace it within 2 years. Regardless, you can buy your ideal car lights Morecambe from us and can even upgrade it if you like.
1. Halogen bulbs:
Halogen bulbs are the wildly popular low-cost lighting options. They produce a warm, yellowish light which is appreciably bright. However, these bulbs need more frequent replacements compared to xenon bulbs and LEDs.
You will find an impressive collection of halogen bulbs at our facility. If you wish to upgrade your vehicle's halogen bulbs to energy-saving or xenon-effect variants, we can do that as well.
2. LEDs:
LEDs have been used as taillights for several years now. However, the UK is seeing an increasing number of vehicles that use LED headlights and daytime running lights.
If you are willing to enjoy the benefits of LED car bulbs Morecambe, we are your one-stop solution in Morecambe. These bulbs are more energy-efficient, thereby increasing battery life and reducing CO2 emissions. Moreover, they produce bright light with a lesser glare that doesn't dazzle drivers in oncoming traffic.
3. Xenon bulbs or HID:
Several car owners are now opting for aftermarket xenon bulbs, owing to their tremendous pros. These bulbs are incredibly long-lasting and produce bright white light that illuminates the road ahead really well.
You can rely on our workshop for buying quality xenon or HID conversion kits to upgrade your 4-wheeler's bulbs. Our kits contain self-levelling and cleaning systems which are entirely per UK's legal standards. Therefore, it will help you ace your annual MOT checks as well.
Our experts at Westgate Tyres are always there to help you with the kit, should you need any assistance.
Still searching - "car bulb replacement near me"?
Cease your search with Westgate Tyres!
Though you are spoilt for choices, it is essential to opt for the right bulbs for your car as per your requirement and driving behaviour. Feel free to place us a call on 01524840044. You can also have a word with us in person. Drive down to Westgate Old Works, Westgate, Morecambe, LA3 3DD at your convenience.