Are you looking for All Season Tyres for your vehicle?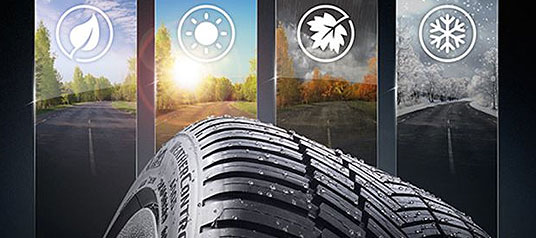 All-season tyres dominate a considerable percentage of the UK's tyre market. Multiple business reports suggest that the total market value of all-weather models - as they are also known - is more than £3.8 billion.
There are several advantages to these tyres. If you live, work or drive in and around Lancashire and are looking to purchase all-season tyres Morecambe, visit our facility - Westgate Tyres.
We are the leading retailers of tyres of all makes and models in Morecambe and Heysham. We have become virtually synonymous with car tyres Morecambe, something that we take great pride in.
Why are all-season tyres unique?
As the name suggests, these tyres combine the best of winter- and summer tyres. They can be used in summers, during the fall, and also in the colder months.
Let us now move to their features.
A special rubber compound:

As a trade-off, all-weather tyres do not have the hard rubber used in summer tyres nor the soft compound common in their winter equivalents. Instead, these models have an intermediate rubber which is capable of handling both dry summer roads and slightly icy or muddy surfaces very well.

A different tread pattern:

The technology behind these tyres has changed in the last 2 decades. Nowadays, most manufacturers use asymmetric tread patterns in these tyres. This helps them to maintain proper traction and assures the driver of confident braking and handling.

A budget-friendly option:

You can easily buy all-season tyres Morecambe. You will not have to spend double on two sets of seasonal tyres.

Hassle-free year-around use:

It is difficult for many car owners to replace their car's tyres on time twice each year. Therefore, it makes perfect sense to acquire a set of all-season tyres Morecambe.

But please note:

If you drive many miles or often drive on motorways, or in case you are planning to go to a colder region, you should still opt for separate summer and winter tyres.

With seasonal tyres a vehicle's fuel consumption is reduced and in extreme weathers they will provide extra safety.

It must also be noted that it is dangerous to mix and match winter, summer and all-season tyres. If you purchase all-weather tyres from Westgate Tyres, we recommend that you buy a full set.

Searching "tyres near me?"

Head over right now to Westgate Tyres. With our range and experience, you will not be disappointed. You can certainly also buy from us online.

Call us on 01524 840044 for additional information.

Think tyres, think Westgate Tyres!